Key West Aquarium
Learn about Key West's ocean eco-system and see local fish and invertebrates up close.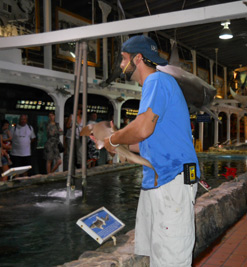 When the Key West Aquarium opened for business during the Great Depression in 1934 it was the islands first tourist attraction. At the time, Key West was the only city completely on federal relief after turning over it's charter to state and federal governments.
The Aquarium, constructed 1932-1934, was a major part of Key West's attempt at economic recovery by advertising their city as "America's Caribbean Island".
Today, the Aquarium educates, fascinates, and amuses the millions of visitors to Key West with unique and wonderful marine creatures. Shark feeding, Touch Tank, and sting ray exhibits are not to be missed.
Hours: Open Daily 10 am – 6 pm. Tours with feeding times are: 11 am, 1 pm, 3 pm, and 4:30 pm.
Cost: $15.05 per adult, $12.90 per senior, $6.45 per child 12 & under, $FREE for children under 4.
Phone: 305-296-2051
Location: 1 Whitehead Street (at Mallory Square)
Key West Travel
#floridakeys, #floridakeysmortgagerates #floridakeystravel, Attractions